The Israel Hedge Funds Association
The Israel Hedge Funds Association (IHFA) was established informally in the spring of 2013 by a group of Israeli and international investment managers and service providers in the hedge fund industry.
The vision was to support the hedge fund industry in Israel as an integral part of the industry's global community.
Through its expanding activities, the IHFA acts as a bridge connecting the local Israeli industry and its international peers, bringing together professional managers, investors and service providers. In 2015, the IHFA registered as a not-for-profit in Israel. Its objectives are: to represent and promote the common interests of the hedge fund industry in front of governmental authorities in Israel; to provide recommendations for best practices to the industry in Israel; to provide access to professional information; and to broaden and deepen market and public knowledge about the hedge fund industry. For more information about the IHFA or to become a member, please e-mail info@ihfa.co.il.
About the conference
We are pleased to invite you to the 8th Annual Conference of the IHFA, on September 15, 2020. 4-7 pm IDT
The theme of the conference is "It's A New World Out There – Hedge Funds Navigating COVID." Hedge fund managers are facing unprecedented challenges and opportunities as a result of the COVID pandemic.
Join us on September 15, 2020, from 4-7 pm IDT, for a digital conference that will provide insights from top leaders about what has worked, what has not worked, and what is needed to ensure the safety and stability of markets in the future.
The event promises to be the most important conference of 2020 for Israel's innovative alternative asset management industry, leveraging the success of our past conferences. This interactive online conference will bring together local and international hedge fund managers, Israeli and international institutional investors and allocators, local and global service providers and representatives of global exchanges.
Thought leaders from the United States, Europe and Israel will provide in-depth commentary and share insights on the many opportunities presented by the Israeli hedge fund industry.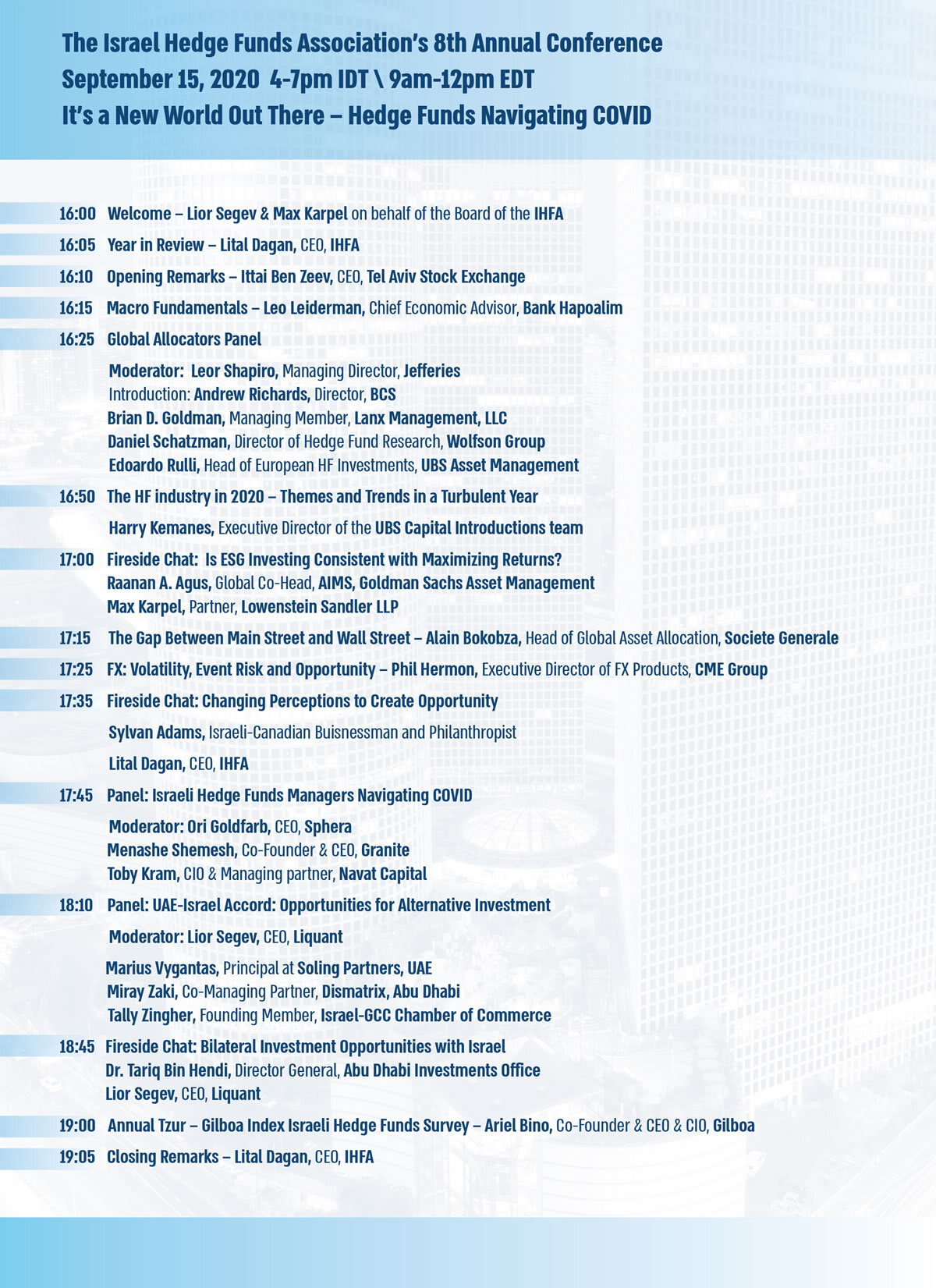 Speakers List
We are pleased to have the following speakers joining us this year:
Mr. Sylvan Adams, Israel
Mr. Raanan Agus, Goldman Sachs, NY, USA
Mr. Ittai Ben-Zeev, TASE, Israel
Mr. Ariel Bino, Gilboa Fund, Israel
Mr. Alain Bokobza, Societe General, USA
Mr. Brian Goldman, Lanx Management, USA
Dr. Tariq Hindi, Abu Dhabi
Mr. Andrew Richards, BCS, UK
Mr. Daniel Schatzman, Wolfson Group, NY, USA
Ms. Lital Dagan, The Israel Hedge Funds Association, Israel  
Mr. Ori Goldfarb, Spehra Funds Management, Israel
Mr. Phil Hermon, CME Group, UK
Mr. Max Karpel, Lowenstein Sandler LLP, NY, USA
Mr. Edoardo Rulli, UBS, UK
Mr. Harry Kemanes, Executive Director, UBS, London
Mr. Toby Kram, Navat Capital, Israel
Mr. Lior Segev, Liquant Asset Management, Israel
Prof. Leo Leiderman, Bank Hapoalim, Israel
Mr. Leor Shapiro, Jefferies, NY, USA
Mr. Menashe Shemesh, Granite Alternative Group, Israel
Mr. Marius Vyganta, Soling Partners, UAE
Ms. Miray Zaki, Dismatrix, Dubai
Ms. Tally Zingher, IHFA, Israel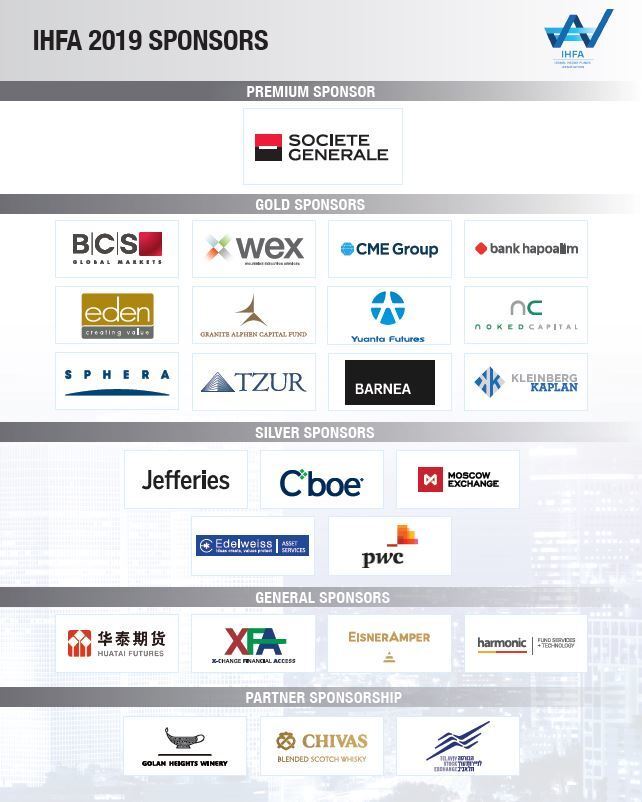 Option for VIP Meetings with Allocators

Opportunity for Hedge Funds Managers or Family Office Managers, to schedule virtual meetings
with Societe Generale Capital Consulting or with UBS Investment Bank

Please send your request and desired options to info@ihfa.co.il and add the following information:
Full name, Email address, Investment Strategy, AUM, Asset classes/instruments traded



For queries or any information
relating registration
Please Contact:

Conference Secretariat:
Shiri Cohen, Windman Production LTD

For queries or any information
relating sponsorships
Please Contact:

Lital Dagan, Adv. CEO IHFA